YT International BFP51D Mustang
North American P51D Mustang

YT are fast becoming a very popular producer of very acceptable warbird models.

While my Flightline Graphics business is adsorbing much of my time at the moment I have halted the rebuilding of my Mick Reeves Spitfire and building of my Brian Taylor Spitfire.

The Mustang was purchased on 30/08/2009 at the British National Championships and will be re-decorated completely.

For more on YT models please visit their web site: Click here.
Click the links below to see the relevant section.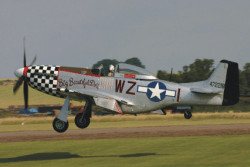 ©2004-2010 Nigel Wagstaff
Copyright © . FlightlineGraphics.com &nbsp& All rights reserved.