Brian Taylor 1/5.33 Scale Spitfire build
Supermarine Spitfire MK XI PL965

I have decided to have a go at a different mark of Spitfire with this build so as to add some variation. Photo recognisance became an essential tool during the second world war. The Spitfire with it's extremely high speed became the natural choice for this function and several variants were used for this function.

The MKXI is a modified MKX which was basically a MKIX with cameras. Distinguishing marks for the MKXI are the single Perspex sheet front screen, no weapons installed, and the familiar deeper chin to accommodate the larger oil tank for those long recognisance sorties.

My model will be based on PL965 which is still airworthy and the private property of Peter Teichman of Hanger 11 in the UK.
Click the links below to see the relevant section.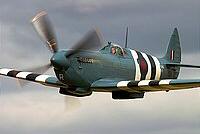 ©2004-2009 Nigel Wagstaff
This rebuild has been halted while I get my business establised.
It will continue, but I currently do not know when!